Sanitiser Fogging
We are trained and certified in infection prevention, control and bio-hazard fogging and offer a 24 hour Coronavirus / Covid-19 fogging service in Great Yarmouth, Lowestoft, Gorleston, Beccles and surrounding areas.
We have already provided this service to many local businesses as a precaution and after confirmed cases.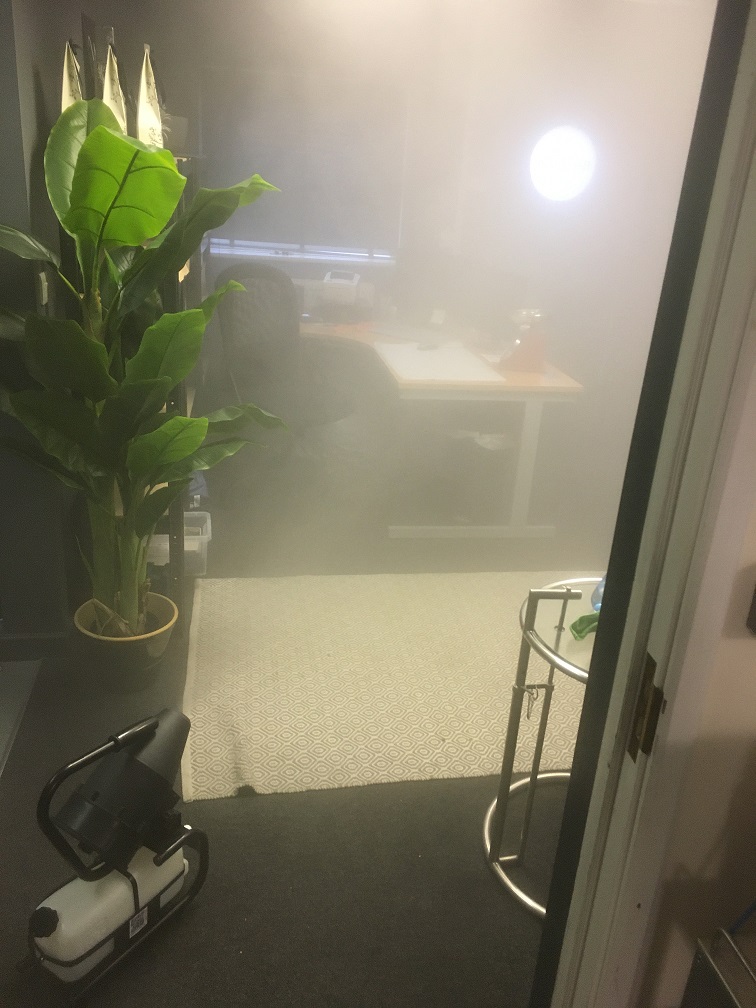 What is fogging? Fogging is sometimes referred to as fumigation and involves an electric fogging machine to disperse a very fine mist or 'fog' of sanitiser or disinfectant in a specified area.
Fogging enables you to treat each and every surface in a measured and tactical way. We have several different fogging machines to suit small, medium and large area applications.
Fogging / fumigation is the fastest and most effective way to sanitise individual rooms, sections of buildings or entire buildings when time is an important factor.
We issue a printable certificate in pdf format immediately after any fogging has been completed for you to display to show that work has been completed to professional cleaning & infection control industry standards.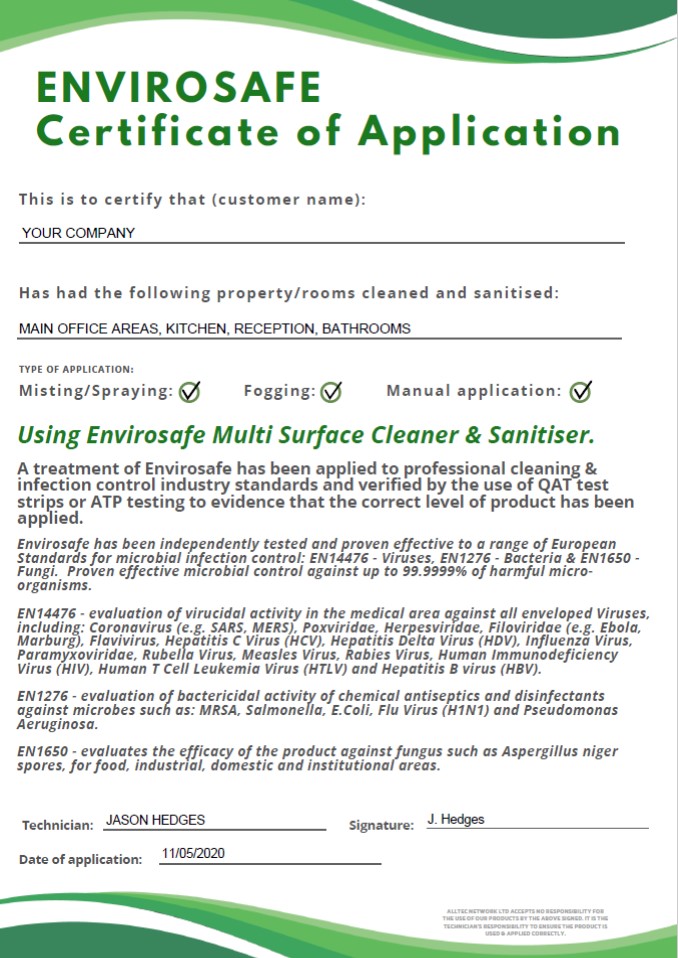 Key points:
Coronavirus / Covid-19 sanitiser fogging service
We work with you to provide the best solution for your individual requirements whether it's a one-off or regular service
Food safe version suitable to use in kitchens, restaurants, canteens & food preparation areas
Peace of mind for employees or general public knowing fogging has been done professionally
Regular fogging service available (every few days, weekly or fortnightly) for maximum protection to keep areas sanitised
Certificate to prove work has been completed professionally
Premises can be re-entered 2 hours after fogging
Fogging can be done during the day, evening or through the night (premises must be empty while fogging takes place and not re-entered for minimum 2 hours afterwards)
24hr emergency fogging service (within 24 hours)

Sanitiser information:

*NON-HAZARDOUS IN DILUTION
*BIODEGRADABLE
*ALCOHOL AND BLEACH FREE
*NON-FLAMMABLE
*NEUTRAL PH
*SUITABLE FOR ALL WET CLEANABLE SURFACES & FABRICS
*FOOD SAFE VERSION AVAILABLE
*PASSED & APPROVED TO EUROPEAN STANDARDS
*ANTI-BACTERIAL EN1276 LOG KILL 6 = 99.9999%
*ANTI-VIRAL EN14476 LOG KILL 4.33 = 99.99%
*ANTI-FUNGAL EN1650 LOG KILL 6 = 99.9999%
We will always wear any PPE required.
Get in Touch
If you have any questions, need advice or would like a quote please call 07721 827163 or use our contact form.
For the latest Coronavirus / Covid-19 updates and news please visit the UK government website information page here.
Coronavirus, Covid-19, Fumigation, Fogging, Disinfectant, Sanitising, Lowestoft, Great Yarmouth, Gorleston, Hopton, Caister, Beccles, Bungay, Bradwell and surrounding areas. These are all in the counties of Norfolk or Suffolk.