Touch Point Cleaning, Sanitising & Fogging
We are trained and certified in infection control and bio-hazard fogging.
We offer a complete touch point cleaning and fogging service or just fogging to supplement your existing cleaning regime. This service is available in Great Yarmouth, Lowestoft, Gorleston and surrounding areas.
Latest news – Covid-19 is a disease caused by a strain of Coronavirus ( SARS-CoV-2 ). Even though numbers of cases are falling and things are starting to be relaxed experts say we will have to learn to live with this pandemic and change of lifestyle for months or even years ahead.
Regular hand washing, avoiding touching your face, staying at home if possible and social distancing is still the best advice to follow. These guidelines were set out by the government from the start and are still the best ways to greatly reduce your chances of getting or passing on the disease.
Essential to beating this virus will be keeping places clean and sanitised to reduce the risk of cross contamination.
The sanitising products we use have been tested, proven effective and certified effective against SARS-CoV-2 and therefore can help prevent the spread of Covid-19.
Other important information on the sanitising products we use:
Non- hazardous
Food safe
Biodegradable
Alcohol & bleach free
Non-Flammable
Neutral pH
Suitable for bio-hazard control fogging
Passed and approved to European standards
Anti-Bacterial EN1276 LOG KILL 6 = 99.9999%
Anti-Viral EN14476 LOG KILL 4.33 = 99.99%
Anti-Fungal EN1650 LOG KILL 6 = 99.9999%
Key points:
We work with you to provide the best solution for your individual requirements
Emergency 24hr fogging service – We guarantee to be with you within 24 hours ( fogging only )
Sanitiser offers ongoing protection for up to several weeks
Can be used in dining locations & food preparation areas
Peace of mind for employees returning to work and members of the public using or entering shared environments
Certificate to prove work has been completed professionally
Premises can be re-entered 1-2 hours after fogging
What is fogging? Fogging is sometimes referred to as fumigation and involves an electric fogging machine to disperse an extremely fine mist of sanitiser across a large area quickly and thoroughly. Fogging enables you to treat every surface evenly with the sanitising product in a measured and tactical way.
What is touch point cleaning? Touch point cleaning involves cleaning areas or objects regularly touched by hands with a cleaner / sanitiser to help prevent cross contamination.
Sanitiser Fogging – Covid-19
After any work we issue you with a certificate to prove work has been done professionally.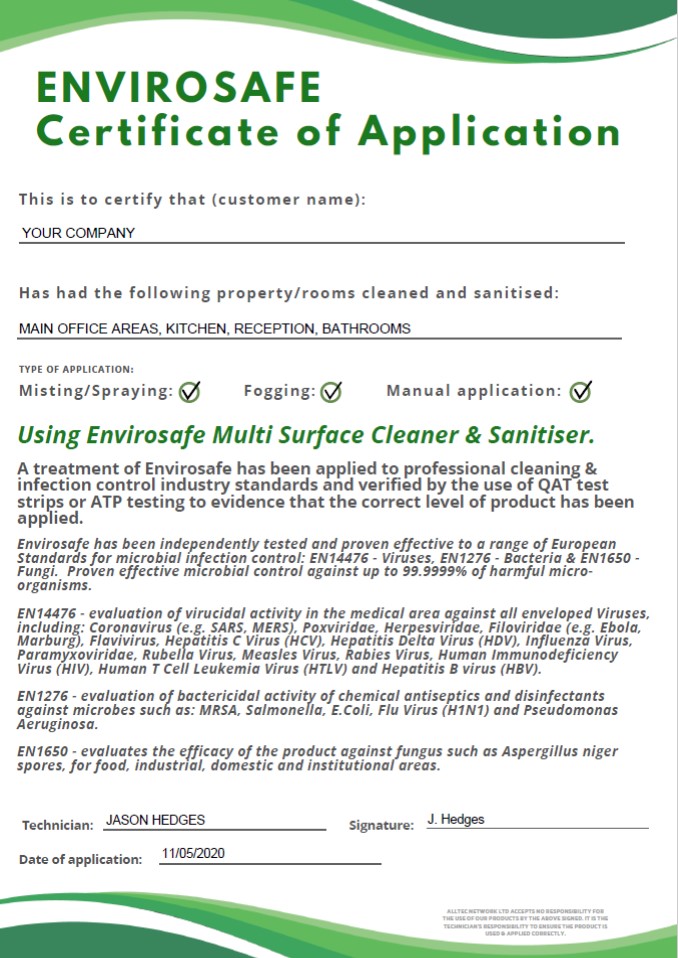 We are fully insured to complete this line of work & wear any PPE required. All PPE & any materials used is double bagged in hazardous waste sacks & transported & disposed of correctly & safely. We can provide risk assessments and method statements as required.
Get in Touch
If you have any questions, need advice or would like a no-obligation quote please call 07721 827163 or use our contact form.
Touch point cleaning, sanitising, fogging, fumigation Lowestoft, Great Yarmouth, Hopton, Oulton Broad, Carlton Colville, Kessingland, Caister, Gorleston, Beccles, Bungay, Southwold, Bradwell, Belton, Acle, Burgh Castle, Reydon, Pakefield, Corton and surrounding areas. These are all in the counties of Norfolk or Suffolk.